SWFL 17U Grey captures Perfect Game Florida State Championship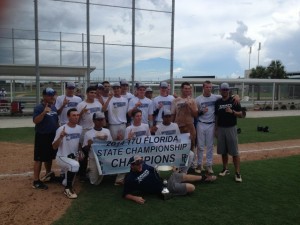 The Southwest Florida Baseball 17U Grey team won the Perfect Game Florida State Championship behind good pitching, situational hitting and a patient approach at the plate. Troy Bacon pitched 6 innings of 1 run baseball, Thaddeus Ward threw 2 scoreless innings and Jose Valmana picked up the win with 1 inning of scoreless relief.
SWFL opened the scoring in the bottom of the 1st with a triple by tournament Most Valuable Player Jacob Silverstein and a situational RBI by Zuriel Collins. Bacon – U Florida commit – was tough on the Elite squad hitters allowing only 3 hits and 2 runs while striking out 1. He mixed all pitches well and controlled the Elite squad 17U Slugger bats throughout. Silverstein scored again in the 6th after a double, drag 1B by Zuriel Collins and a situational RBI by Chris Berry put SWFL on top 2-1. Elite squad answered right back and knotted the score at 2 in the top of the 7th after a leadoff walk and a 2 out triple by Patrick Mitchell. SS Deyvid Silva, who had a hit for the Slugger squad, made a spectacular throw from short left field to squash a potential game winning run in the bottom of the 8th. With 2 outs, Chris Berry singled, Brandon Hernandez came up and smoked a double to deep left field, the Elite squad defenders played it perfectly with Silva's relay throw nailing a diving Berry to end the bottom of the 8th. The game winner came across after SWFL had loaded the bases with no outs and Connor Roe took a walk to plate Troy Bacon and walk off with the Perfect Game Florida State Championships inaugural title.
Silverstein led SWFL hitters going 2 – 4 with a triple, double and 2 runs, Chris Berry had 3 hits, Brandon Hernandez had 2 hard hits – a double and a single, Troy Bacon had a single and Zuriel Collins added a single also. With the PG Florida State Championships under their belt, SWFL 17U Grey finished a great summer at 34-6-1.
This concludes the summer for the SWFL program. Troy Bacon and Thaddeus Ward – U Central Florida commit led a SWFL pitching staff that was outstanding all summer with an ERA below 2.00. The defense is led by one of the fastest, Garrett Zech – U South Florida commit and a 6.28 – 60 yard dash at the Prospect Wire event, Jacob Silverstein – 6.6 – 60, most athletic outfields in the country. The infield has been air tight all summer led by Chris Berry, Zuriel Collins, Brandon Hernandez, Connor Roe and Troy Bacon. Leading the way and calling great games have been the back bone of the team: catchers Andrew Abbott, Alex Goebel and Andrew Mink. It's been a tremendous team effort and all of the players deserve a "job well done" for their efforts.
The fall will be exciting as the SWFL program gears up for a challenging and eventful season. The fall season will kick off with the annual SWFL Invitational September 12-14 at Terry Park and the Player Development Complex.