THE 8th ANNUAL SAEZ/ SKARBEK MEMORIAL TOURNAMENT AND SHOWCASE
SWFL INVITATIONAL-June 1-2 (updated)
IS IN HONOR OF THE MEMORIES OF
BILL SKARBEK AND LUIS SAEZ.
BILL SKARBEK WAS ONE OF THE ORIGINAL FOUNDERS OF SWFL BASEBALL.  HE WORKED TIRELESSLY TO MAKE SURE THAT HE HELPED YOUNG MEN REACH THEIR GOALS OF PLAYING COLLEGE OR PROFESSIONAL BASEBALL.
LUIS SAEZ GREW UP PLAYING BASEBALL AT SOUTH FT MYERS LITTLE LEAGUE BEFORE GOING ON TO STAR AT SOUTH FT MYERS HIGH SCHOOL.  HE WAS LOVED BY TEAMMATES AND FRIENDS.  HE WAS THE SON OF LONG TIME SWFL BASEBALL COACH PETE SAEZ.
BOTH MEN WILL BE MISSED BUT NEVER FORGOTTEN BY THE SWFL BASEBALL FAMILY.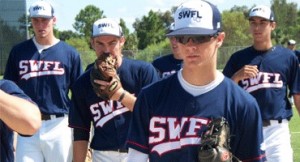 Bill Skarbek was one of the founding members of SWFL Baseball with Dave Fore and John Cedarburg. Bill, a long time FBI agent, was a champion of youth baseball and handled all aspects of the SWFL program during his tenure. Bill is survived by his wife Selina and 3 children. Bill's grandson, Ridge, played on the SWFL 2020 team this past summer. Bill would have been proud of his grandsons attitude and play ability.
Luis Saez is survived by long time SWFL Coach Pete, mother Jessica Lynn and siblings Danny, Carlos and Elenis. Luis played in the SWFL program and always brought enthusiasm to the game he loved. We're honored to commemorate these two individuals and their contribution to the SWFL program with a vibrant baseball tournament.
THE SWFL SHOWCASE REGISTRATION NOW CLOSED
May 31, 2019 – SWFL Showcase – The SWFL Showcase is open to any and all players in the 2020, 2021, and 2022 classes. It's a great opportunity for all high school players to be seen by College coaches in a workout setting before the summer season begins.
When: Friday, May 31, 2019 , start time 4:14, check in by 3:45
Who: Open to all Class of 2020, 2021 & 2022 prospects.
Where: Terry Park 3410 Palm Beach Blvd. Fort Myers, FL 33916
Position Players: No pitching at this Showcase.
Check-in at 3:45pm – all players must be registered by Thursday, May 30th, 7pm. Please register at www.SWFLBaseball.com Showcase will include 60, BP and defensivesegment.
Cost – $125
Confirmed Colleges: Embry Riddle U, Florida Southern College, Florida Gulf Coast U, Eckerd College, Florida SouthWestern State College, St John's River State College, St Leo U and 2-4 more Colleges will be announced at a later date.
TOURNAMENT INFORMATION:
AGE DIVISIONS: 13/14U, 15/16U, 17/18u
When: May 31-June 2, 2019
Where: Terry Park Fort Myers, FL
Cost: $400, includes baseballs and umpires (PayPal includes $15 fee)
Games: 3 game guarantee
More information and Registration: www.swflbaseball.com click on homepage and follow to registration link.
Contact Clint Montgomery: 863-990-5429
Follow us: @swflbaseball1 and on Facebook: SWFL Baseball
Click here to register your team, then pay using the form below
Hotels: HOTEL HOTLINE:  
Please call Lee County Sports Housing at 1-239-541-1800, Monday through Friday between 9 a.m. and 5 p.m. Eastern,
or submit a reservation request online at:
http://www.leecountysportshousing.org/event/1327
Daily admission: $5 – 12 under are free. Lee County prohibits coolers in parks.
Tournament game guidelines:
* Wood bats only, 7 inning games, 2 hour time limit, no new inning after 2 hours.
* 10 run rule after 6 innings unless agreed upon by both coaches for less innings.
* Relaxed High School substitution rules, the object is to play and Showcase your players. No line ups will be exchanged.
* Game baseballs and umpires are paid by Southwest Florida Baseball.
Questions, please call  Clint Montgomery at 863-990-4956; email clintondmo@leeschools.net
We look forward to hosting your team.